ConSTANZ
The Science Technicians Association of New Zealand is pleased to announce:
ConSTANZ24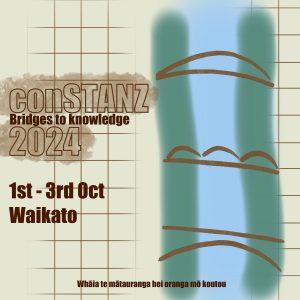 The mighty Waikato is bringing you 'ConSTANZ 2024 Bridges to knowledge'.
This will run from Tuesday 1 October 2024 – Thursday 3 October 2024 at St Peter's School in Cambridge. 
This is an exciting opportunity for science technicians and lab managers to come together to share our knowledge, engage in workshops, enjoy field trips in and around the Waikato, and enjoy networking with colleagues and friends. 
We encourage you to arrive on Monday 30th Sept to get set up in the boarding house accommodation and get ready to get started first thing on Tuesday.   We will be starting at 8.30am with registration followed by the official welcoming at 9.30am. 
HOD's will be starting budgets for next year so make sure you book this PD into the budget!  
The committee is wanting to gather an indication of numbers as to whether you are likely to attend conSTANZ2024 and so we would like it if you are able to fill in this ConSTANZ2024 form please.   Note: This does not lock you into attending or not.  
For conference queries please email [email protected]
Funding to get you to ConSTANZ